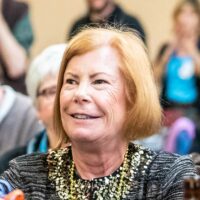 When Trisha Stark, PhD LP, thinks of Walk-In, she thinks of community. Starting as a volunteer counselor in the 1980s, Trisha has been a supervisor, board member and all-around supporter of Walk-In.
"Thinking back on my volunteer days, I really enjoyed the hours spent hanging out in the team room and the kitchen, the hub of what went on in Walk-In. We had a sense of camaraderie and belonging to something bigger and more important, what I call 'the community of Walk-In,'" she says.
It turned out that the community at Walk-In played a crucial role in her life, Trisha recalls. "Walk-In actually saved my life." Here's how she told it at last fall's 50th anniversary gala:
After supervising a team for a number of years, life got hectic and I had to stop supervising. Not only had my life gotten hectic, it had gotten dark. I was so overcome by depression that I was unable to work, and spent most of my days face down on the couch. Slowly I started to climb out of that dark and sticky cesspool that is depression.
I felt diminished by the depression and lost confidence in my ability to be a professional psychologist, something that was closely tied to my sense of identity. I was shaken at the core. It was suggested by my therapist, also a former Walk-In volunteer, that I try to volunteer at Walk-In once again. I considered it with trepidation, and again applied to be a volunteer.
With anxiety high, I again started to volunteer and supervise. With time, the anxiety lessened, and as a consequence of being a part of the community of Walk-In, I healed, regaining faith in myself as a person and as a professional.
I tell my story, not just to demonstrate that it is possible to recover from mental illness, which is important, but because I believe I am not alone. That many in the community of Walk-In found a belief in themselves and their professionalism as a consequence of being part of the community. This sense of community touched other lives, those who never volunteered. Those who attended trainings or, as so many in the mental health community have, called on Gary Schoener at their weakest and most vulnerable moments, when they were on the horns of an ethical dilemma, and received wise counsel and much needed support.
In 2003, when Trisha was on Walk-In's board of directors, the agency suddenly lost a major source of funding at the time, Hennepin County. Walk-In came close to closing its doors, but Trisha and others in the Walk-In community pulled together to keep Walk-In open. "That sense of community saved me, and it also saved Walk-In," Trisha says.