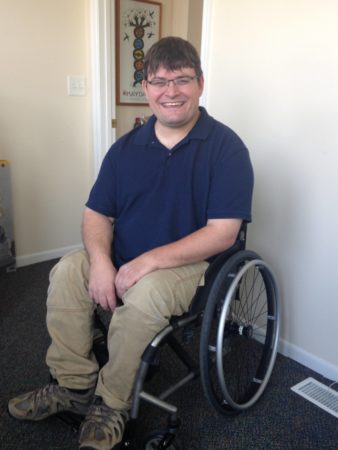 Matt B. is a social work student who is finishing his internship at Walk-In Counseling Center this month (Sept. 2018). We spoke to him recently between counseling appointments.  "What I love about Walk-In is that I've had a chance to serve clients from very diverse backgrounds and levels of need," Matt says. Walk-In's proactive approach to accommodating his disability (he uses a wheelchair) has made him feel welcome, he says. "As soon as I got here, (staff) came forward and suggested things we could do from the beginning. .. And there's no 'demeanor barrier.' People here are comfortable with me. "
In sessions with clients, he finds that often, being in a chair can encourage clients to open up more. At other times, clients compare their challenges with Matt's and find theirs wanting. "I say, 'Your problems and mine are just different. What about your suffering? Let's talk about what's going on with you.'"
Originally from Baxter, Minnesota, Matt started out in the special education field. "A lot of what I was doing was helping kids cope with being at school," he recalls. Matt soon discovered one thing he loved the most about interacting with students in his classes who had emotional and behavioral disorders. "I was interested in peeling them off the ceiling when they were mad," Matt says. "I wanted to talk about why they wanted to kick somebody." His job search in special ed was unsuccessful, mainly because employers were afraid he would be unsafe because of his disability, he says. But that led him to a career change that lets him work from where his passion lies.
Matt recalls a particularly rewarding session at Walk-In. It began when a client came into the room who was agitated and angry. "He was a big guy… he could have come across as intimidating, but I just sat there and listened. After a while, he began to feel heard, and he started to cry. We worked together on an action plan for him. ..That's the power of one session."
What's next for Matt is unknown. In addition to a bachelor's degree in special education, he holds a master's degree in counseling psychology from the University of St. Thomas and will soon complete a master's in social work at the University of Minnesota. Although his health continues to present challenges, he feels prepared professionally for his next step. "Walk-In is the best training site," with its supportive environment that focuses on collaboration, using multiple approaches, and learning, he says.