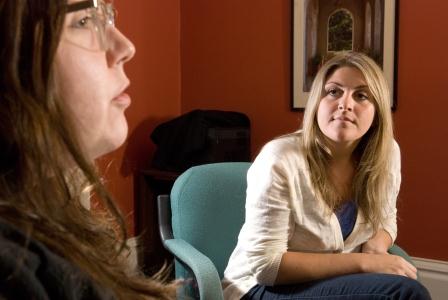 For a printable page of our hours, locations and services,CLICK HERE.
New Clients
You do not need an appointment. Just come to Walk-In during the times listed for our walk-in clinics. Services are first come, first served, so there may be a short wait. Please consider coming shortly before the start of a clinic time or half way through.
Typically, counseling sessions are 30 minutes to an hour long, and are held in private rooms.  You may remain anonymous if you wish.  Walk-In services are strictly confidential.
About half of our clients come only once, but you and your counselor may decide that additional visits are appropriate.  These you can make by appointment.  We can also refer you to other helping organizations for additional services that may be helpful, including longer term care and support.
Returning Clients
If you have a follow up appointment please be on time or call if you are going to be late or cannot come. We encourage you to communicate directly with your counselor by calling their voicemail number and leaving a message. You may also call our front desk during regular business hours and walk-in clinic hours to be connected to your counselor's voicemail, call 612-870-0565, ext. 100.
Counselors schedule their day and travel specifically to see returning clients, so please call as soon as you know if you can't come at all for a scheduled appointment.
Fees
There is no charge for our walk-in or scheduled counseling services. However, you may make a donation to help cover the costs of the services we are providing. All donations are 100% tax-deductible and make it possible for us to continue to offer free services.
Accessibility
Minneapolis Site:  Accessibility is via a ramp at the rear of the building. Please ring the doorbell several times to signal staff. The main floor and bathroom are wheelchair accessible. Parking on the street and in the rear lot can be arranged for those with special needs. It may be helpful to call before coming to ensure appropriate parking. (612-870-0565, ext. 100)
Family Tree Clinic Site: Fully wheelchair accessible; access is on the Dayton Avenue side of the building.  Take the elevator to the 2nd level.
Neighborhood House Site:  Fully accessible.
First Lutheran Church Site: Walk-In is in the Administrative building just east of the church itself.  It is fully wheelchair accessible; access is on Maria Ave.
Child Care
Although Walk-In does not provide child care, receptionists at the Minneapolis site will keep an eye on children in the waiting room. Some toys are available.  However, parents may be asked to tend very active children.
Equal Opportunity
Walk-In services are available to everyone. We welcome all people regardless of age, ethnic background, race, marital status, sexual/affectional orientation, disability or economic status.